Uniform
It's important to turn up to school feeling that you belong and looking ready to learn. Our school uniform does exactly that. It makes our children look smart and provides an identity as a member of our education community.
Uniform with school logo is available to purchase from Steady School & Sportswear Central, 17 Savile Street,
Hull, East Yorkshire, HU1 3EF and the link to their website is below:
https://steadyschoolwear.co.uk/index.php?route=product/category&path=120_202

Everyday uniform
School sweatshirt (green) or school cardigan (green)
Polo-shirt (gold)
Trousers, skirt or pinafore (grey)
Black shoes only (trainers are not permitted except for PE)
Grey or black socks or tights
PE kit
T-shirt (white)
Shorts (green)
Black jogging bottoms can be worn for outside sports during cooler weather.
Shoes
We want your children to be safe and comfortable at school and we want them to be able to have fun and run around at playtime. Shoes should be completely black and flat, and should fit well to the foot eg lace-up shoes or velcro-fasten. Trainers can be worn for sport and PE.
Jewellery
Children are permitted to wear a single pair of small, stud earrings that must be removed for PE.

Children are permitted to wear a wrist watch (except in PE). Children are not permitted to wear 'smart watches' to school, which include Apple watches or fitness trackers that can connect to the internet.
No other jewellery type is permitted in school. Children are asked to remove necklaces; bracelets etc. themselves and these are returned at the end of the school day.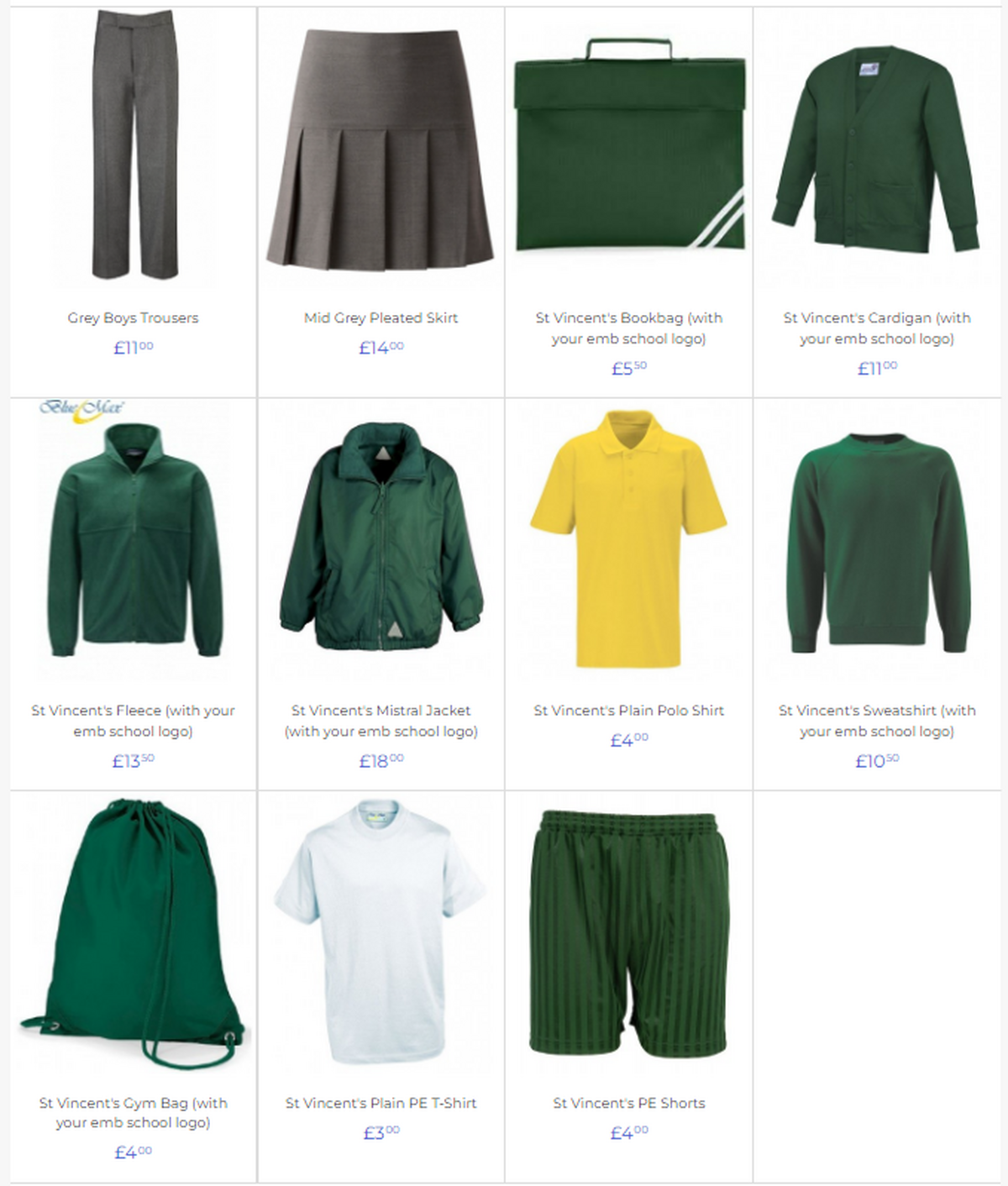 Uniform Recycling
If you have items of second hand school uniform which are still in good condition and could benefit a younger pupil, we strongly encourage you to donate these to the RE:Uniform community group who redistribute these to families on behalf of our school who can make use of them.
Visit their Facebook page: click here
Or you can take the items to one of their drop-off bins inside these stores:
Sainsbury's: Hessle
Morrisons: Anlaby & Holderness Road
Tesco: Hall Road
Co-Op: Cottingham
Trinity Methodist Church, Newland Avenue
Need an item of school uniform?
RE:Uniform also offer free, good quality items of uniform to anyone who requests (subject to availability).
You can request items by completing one of the two forms below: